New Product Released: Oven2Go Convenience Packaging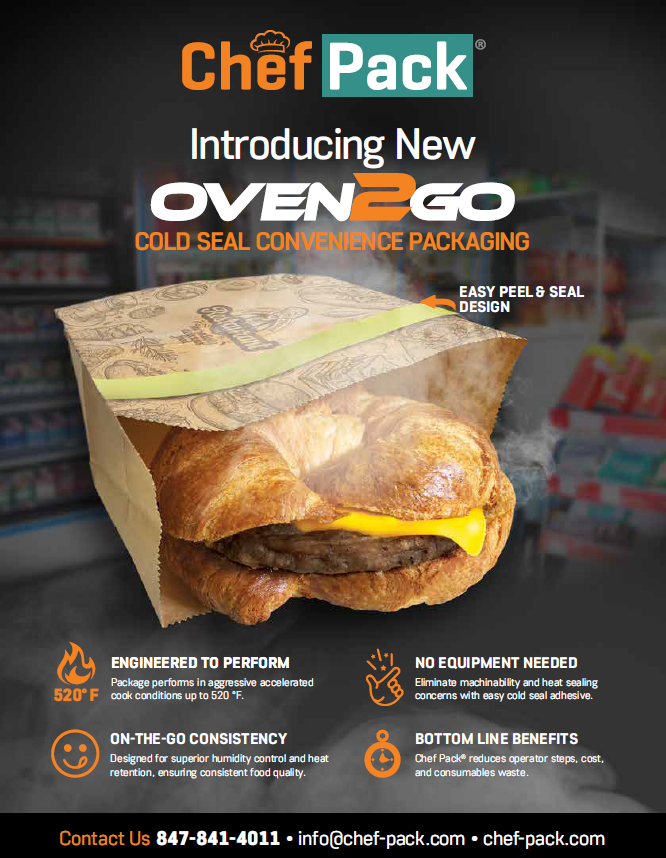 May 9th, 2019- Lake in the Hills, IL- Chef Pack, designer of innovative accelerated cook packaging, is pleased to introduce Oven2Go Bags to the QSR, fast casual, and C-store markets.
This product line incorporates Chef Pack's proprietary bake-in-bag technology with an easy peel and seal adhesive liner. Achieve increased speed of service and food quality in kitchens using TurboChef®, MerryChef®, and other major OEM ovens with Oven2Go.
Chef Pack Sales Manager commented,"Our new Oven2Go convenience packaging was designed to support operators initiative to utilize their existing equipment infrastructure, while optimizing food quality and speed of service".
Easy Seal= Easy Execution for Operators
Operators can simply place the food product into the package, remove the adhesive strip, and seal by hand- no equipment or additional materials needed! The package is then placed directly into the oven, cooked up to 520 °F, and served to the customer. Chef Pack's proprietary adhesive system is FDA compliant, recyclable, and retains its seal in accelerated cook environments.
Bake-In-Bag Performance
By creating a convection effect, the product is evenly heated with superior moisture control. Moisture can escape, heat is retained, and external contaminants are blocked from entry. The result? A consistent, quality sensory experience for on-the-go customers.
Oven2Go Inquiries
Please contact Michael Baker, Sales Manager, at mbaker@afconline.com or 847-841-4011 for specifications and ordering information.